Wealthy Affiliate is an online community founded in 2005 by Kyle and Carson. It is designed to teach you how to build your own website and turn it into a profitable online business. Two of its main components are the Wealthy Affiliate Online Certification Course and Bootcamp which are both very good training modules.
The question though is which one you should tackle first. I have heard two sides of the coin promoting both of these. First, though, let me tell you what they are.
THE ONLINE ENTREPRENEUR CERTIFICATION
This is an excellent, FREE 10-lesson training on how to build a successful website and online business and teaches the following:
(1) How to get started

(2) Understanding how to make money online

(3) Choosing a niche (your passion or interest)

(4) Building a website for your niche

(5) Setting up your website

(6) Site ready search engines

(7) Creating content for your website (quality content is a must!)

(8) Creating your custom menus

(9) Understanding what keywords are and how to use them

(10) How to proceed next
Free vs Premium
When I first started, I chose the Online Certification Course because it teaches you how to choose your niche or passion and build your website from scratch (cool, huh?). That in itself was appealing.
The other reason I chose it was because it was absolutely FREE and when they say free, they mean it, no strings attached and no credit card information required. If you are thinking 'what's the catch,' I am here to tell you there isn't one.
You do have the choice to go premium though, which I chose to do after completing lesson 4. This decision was easy for me. I wanted access to ALL the training available.
Other reasons to choose Premium: unlimited community support; unlimited websites; free web hosting; private messaging, access to videos, tutorials, keyword searches, webinars, and great in house commission structure (for promoting WA) – all for $49 US a month. But there's more! You can save BIG by going yearly at $359 US.
THE AFFILIATE BOOTCAMP TRAINING
Definition of Bootcamp:
"a short but very difficult training program: a program or situation that helps people become much better at doing something in a short period."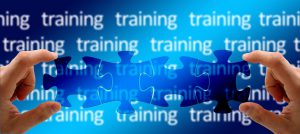 The Affiliate Bootcamp training is a 7 Phase (70 lessons) series of courses walking you through the process of creating and establishing a business in a niche related to the promotion of Wealthy Affiliate products.
However, having said that, I caution you that this is a difficult road to take, especially if you skip the Online Certification Course. By taking the Certification course first, you are learning the foundation of successful website building, in a niche that you are either familiar with or passionate about. It is much easier for people to trust you if they know you care and are passionate about what you are promoting.
Bootcamp does offer some top-notch training. It encourages you to promote Wealthy Affiliate which may sound easy, right? But it will take a tremendous amount of determination and work on your part. ­In fact, you will probably work at least 6 months to a year before you see any monetary benefits. ­Reviews will be a big part of this training – lots of reviews!
Can You Make Money?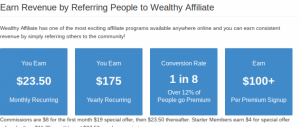 Yes, you can! Their commission structure is very enticing, especially for a premium member, for referring others to join Wealthy Affiliate. As a premium member, you can expect to earn $8 for the first month on the $19 special offer, $23.50 thereafter monthly (recurring) and $175 yearly (recurring).
If you achieve 300 Premium referrals in one calendar year, you get an all-expense-paid trip to Las Vegas to a private conference.
There is no 'magic' formula. It is definitely not a "get rich quick" scheme. Like joining an art class, just paying for the class won't make you a painter. You will put in hours and hours of work before you create something to show for the time you put in. It is the same with Bootcamp. There most likely will be times of frustration and you will want to quit. In fact, many do!
Is It For Everyone?
Probably not. Like painting, it is not for everyone. Yet you are here which means you have a desire to have an online business. There are lots of success stories, though, of others just like you, who wanted to make money from an online business.
For example, you will hear stories like this:
"With all the tools and training here at Wealthy Affiliate, the support, the mentorship, the live video classes, the course lineup, the live chat, the accessibility to incredible mentors, I can say with absolute certainty that this is the best training and mentorship platform for building a successful business online, hands down." ~ Eric C.
"Finding and joining Wealthy Affiliate was a complete game-changer for me. If you want to build a real online business then it will take some time and hard work but it will be profitable and sustainable long term. If this is your goal, look no further – WA has everything you will ever need to succeed online." ~ Lynne H.
"Wealthy Affiliate transformed me. It turned this ordinary guy with no clear career path into someone who will ALWAYS be able to generate an income online. At Wealthy Affiliate, you get ABSOLUTE clarity in every aspect within an otherwise foggy and often confusing 'online biz' industry. Thank you for everything, Wealthy Affiliate!" ~ Marcus
Note: These are all real individuals with real stories.
MY OPINION + SPECIAL BONUS
Which is better – the Online Certification Course first or Bootcamp?
Based on my experience, I recommend you take the FREE Online Certification Course first, especially if you know absolutely nothing about Affiliate Marketing and want to learn. When I first started, I didn't have a niche pop into my mind. I had to sit down and really think about what I am passionate about and if I could make money from it. When I had my website up and running with several content related posts, I then turned to Bootcamp. I realized that if I had chosen Bootcamp first, I would have been overwhelmed with the amount of work in front of me, with little return for months to come.
Doing the Online Certification Course first will give you a solid understanding of building your first website with all the tools needed from getting started to building out your content and getting it indexed on google.
And the best part, it is FREE.
Am I saying don't do Bootcamp first? Not at all! If you seriously don't have anything you are passionate about other than making money, then Bootcamp might be for you. Just remember, it will require a tremendous commitment on your part, a lot of hours and hard work, and a lot of reviews.
The beauty of Wealthy Affiliate is that you don't have to promote their products. You are never forced to sell Wealthy Affiliate. If all you want is to take the information to promote your own niche and turn it into a money-making business, ALL the tools you will need are right here.
By starting the Online Certification Course first, you will have gained a tremendous amount of education and knowledge, building a website around your passion, sharing valuable content, and building up traffic to your site which will greatly increase your chances of succeeding in such a competitive field.
Click ⇒⇒here to get started!
HOW TO CLAIM YOUR SPECIAL BONUS
Remember that bonus I mentioned? When you join Your FREE Starter Account, I am going to offer you a Bonus if you decide to become a PREMIUM member within the first 7 days (including a discount). Upon creating your account with Wealthy Affiliate, I will contact you on your profile with my "Welcome" message and important information, how to get help and to claim your BONUS.