In an earlier article, I explained why the Jaaxy research tool is great for the beginner affiliate marketer. In this article, I want to tell you about the other Jaaxy options available and the cost associated with each. But first, let's review why a keyword research tool is important, not only for the beginner but for anyone who is serious about being a successful online marketer.
JAAXY REVIEW
PRODUCT: Jaaxy Keyword Research Tool
FOUNDER: Kyle Loudon & Carson Lim
PRICE: Starter (FREE); Pro $49/month; Enterprise $99
BEST FOR: Online businesses, websites, affiliate marketers, freelancers, bloggers, etc.
RECOMMENDED: Yes
Why You Need A Keyword Research Tool
If your goal is to write articles that rank with the big search engines such as Google, Yahoo and Bing, you need to come up with ranking keywords which is the foundation of search engine optimization (SEO). This is where a keyword tool comes in handy. Keywords can make or break your website so choosing the right one is important.
Who designed the Jaaxy Keyword Tool? Affiliate marketers! So it makes sense for other affiliate marketers to use it too – (powerful, huh?). It is known as the research platform for successful entrepreneurs.
Important Considerations
Don't be overwhelmed like I was when I started out! Before we discuss the many features of Jaaxy, there are certain things you must consider:
How cost-effective is your keyword research tool

What best suits your budget

How important is the keyword research tool (do you want to make money with your websites?)
There are three plans available to you and we will show you the costs associated with each at the end of my review.
Some of the Features of Jaaxy
finding high traffic niches

brainstorming

understanding competition

saving a keyword list

using the alphabet soup technique (and I don't mean the kind you eat)

searching for affiliate programs

knowing what's trending
Benefits of Using Jaaxy
There are several benefits to using Jaaxy in your researches. Let me go over four of them with you. For more in-depth information and images, check out my previous article.
EASY-TO-USE
Jaaxy keyword tool is one of the easiest to use – type in the word or phrase and Jaaxy will do the rest. Here is one example. Let's say your niche is hockey goalie gloves. As you can see from the diagram, that one search provided 20 possible keywords.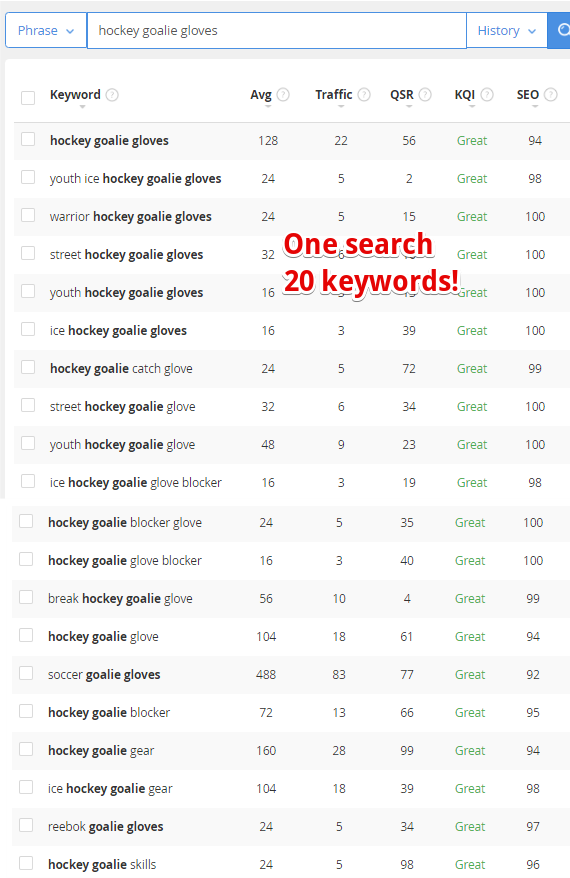 DOMAIN SEARCHES
Using our same keyword search "hockey goalie gloves" you can see which domains are available. This is great when you need to come up with a name for your website. Just remember that there are many extensions such as .com, org and .net. Out of the three, aim for getting the .com as it is the most popular and sought after one.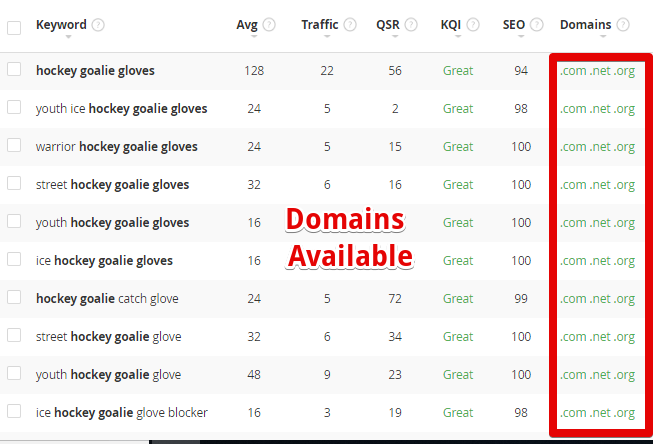 ALPHABET SOUP SEARCH
This is actually kind of fun, especially when you just can't think! Amazing how many searches will come up using the 'alphabet soup technique.'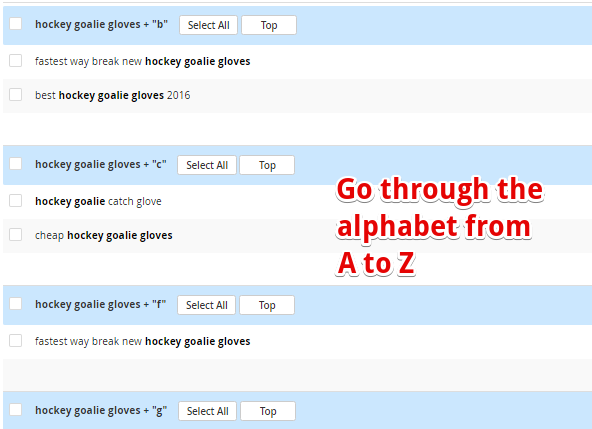 SITE RANK
This is important if you want to see how well you are ranking in Google, Bing and Yahoo. Jaaxy can tell you which position you are ranking in and will track your performance as well. This is beneficial to you as it will tell you which website activities are leading to these rankings.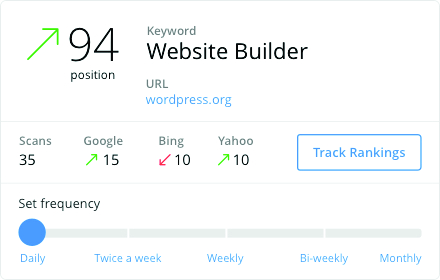 In addition to these four, you can use Jaaxy (FREE option) for search analysis (rankings), affiliate network searches, managing a word list, brainstorming, and keyword competition data. For the paid versions, there is so much more.
What I Like About Jaaxy
Affordable – Starter is FREE

Very fast

Mobile-friendly

Depending on your plan, a minimum of 30 keyword searches

No software to download

Find what's trending in your niche

Accurate information

Training and support

3 pricing plans available – whether you are new or a seasoned online marketer or own another online business
What I Don't Like About Jaaxy
Since this is a review, I must be honest here.
English is the only language that is available

You cannot conduct local searches (searches are based on the whole world)

Can be cost-prohibitive ($49 or $99/month can be high if you don't have the budget for it)

FREE is limited to 30 searches
What Plans are Available and What They Give You
As promised earlier, click here for a complete breakdown of the three options available to you for your budget and what is included with each.
Starter Trial
Pro Membership
Enterprise Membership
I do understand that FREE might be the only way to go if this is the beginning of your online journey. Even though it is limited to 30 searches, it will give you a 'feel' of what to expect and how to use it.
Even the Pro at $49/month is a good option. It will give you everything FREE gives you PLUS another 8 features including unlimited search history and 2 thousand SiteRank Analysis Scans.
There are three main differences between Pro and Enterprise:
Instant QSR (Quoted Search Results) – with Pro, you have to manually check each keyword result. With Enterprise you get all of the results instantly.
Domain Availability – with Pro, you have to manually check it to see which Domain is available. With Enterprise,  you instantly see which ones are available.
Sortable Column

s

– With Enterprise, once you get your results you can sort the columns in an ascending or descending order (you can sort it so that it shows the most amount of monthly researches to the least amount of monthly searches).
If you are undecided about the Pro and Enterprise options, here is Jay from Affiliate Resources Inc. to explain the main differences and to give you a demonstration. Hopefully, this will help you decide.