JAAXY KEYWORD RESEARCH TOOL REVIEW
PRODUCT: Jaaxy Keyword Research Tool
FOUNDER: Kyle Loudon & Carson Lim
PRICE: Starter (Free); Pro $49/month; Enterprise $99/month
BEST:  for Online businesses, websites, affiliate marketers, freelancers, bloggers, etc.
RECOMMENDED: Yes
What Is The Jaaxy Keyword Tool
The Jaaxy Keyword Tool is a research tool designed by affiliate marketers for affiliate marketers, to help you come up with reliable keywords you can use in getting ranked by Google, Yahoo, or Bing. It is the foundation of SEO (Search Engine Optimization).
Why does this matter? The right keywords can make or break your website.
As a beginner, you want to use the best tools to help you find your niche (passion or interest) and get your website ranked – Jaaxy is the tool to do it.
I know from personal experience that just starting out can be very overwhelming. This tool has helped me tremendously and I am convinced it will be a benefit for you too!
What You Need To Consider
You need to look for a tool that is cost-effective for your business and provides you with the most words you can use in your research.
Jaaxy has three available levels: Starter, Pro, and Enterprise. As a beginner, the Starter level is FREE but is still a great tool to get you on your way, giving you 30 keyword searches.­
By looking at the membership tiers, and seeing what they offer, you can determine which plan best suits not only your budget but also your needs. You don't have to break the bank – I personally used the Starter plan for a long time. You have to pick the one that is best for you and decide when it is time to upgrade.
The Many Features of Jaaxy
Jaaxy has a variety of features which include but are not limited to:
finding high traffic niches

brainstorming

understanding the competition

saving your keyword list

using the alphabet soup technique (no, not the kind you eat)

finding affiliate programs

what's trending
How Jaaxy Can Be A Valuable Search Tool
As I already mentioned, Jaaxy has many features but there are a few that stand out:
EASY TO USE
Using the Jaaxy Search tool is not difficult. All you have to do is type in the word you want to search and Jaaxy will do the rest. For example, if your niche is travel, once you insert that in the search engine, Jaaxy will give you lots of phrases using that word.
SEARCHING DOMAIN NAMES
You can use Jaaxy to help you find Domain names that are available. This is a big help as finding a domain name can be difficult, especially if you are using a popular niche. Keep in mind, that while there are many domain extensions, the three most popular are .com, .org and .net and .com is the most difficult, valuable, and sought after extension.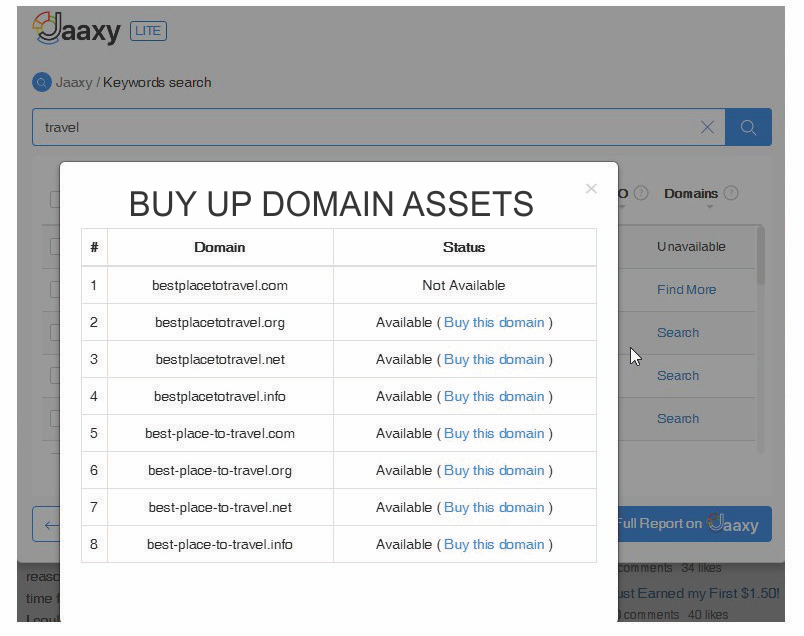 ALPHABET SOUP TECHNIQUE
What this means, simply, is that you enter your main keyword or keywords, for example, travelling Europe, click Find Keywords and you will get a list of suggestions based on the alphabet.
So: "travelling Europe" are the main keywords, and if I start with "a", I will get suggestions such as air travel Europe; airline travel Europe, cheap air travel Europe, overseas adventure travel Europe barge, travel Europe air, etc.
Get the idea?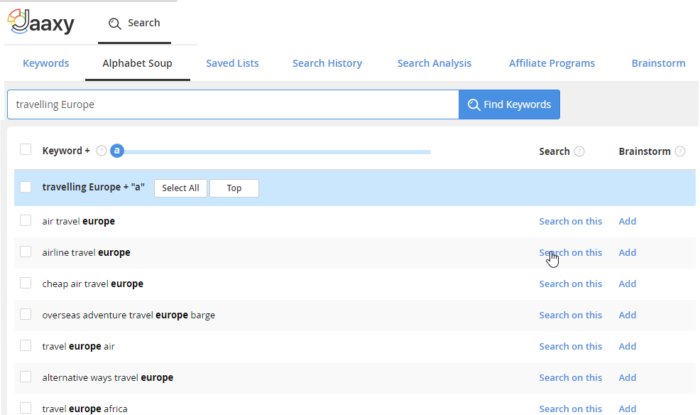 MANAGING A WORD LIST
This is great when you know you are going to use the same keyword for future articles. Pick your topic and add all the relevant keywords in that category. Using Backpacks as our main topic, there are many relevant keywords associated with it. For example, backpacks for women, cute backpacks, large backpacks, best backpacks, etc.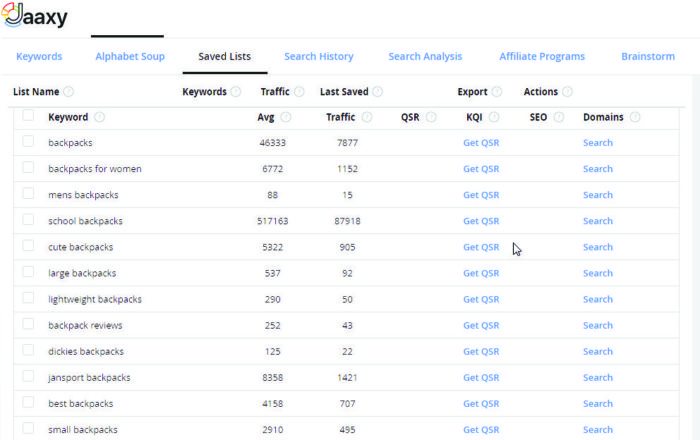 SEARCH ANALYSIS
With Jaaxy you can analyze rankings across all search engines. In addition, you will see such details as:
Meta Description
Meta Keywords
Word Count
Links on Site
Backlinks
Alexa Rank
AdSense
Powerful stuff, right?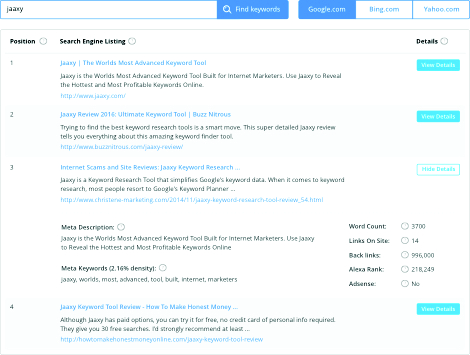 AFFILIATE NETWORKS
This really comes in handy when you are looking for affiliate programs for your particular niche. Type in your keyword and hit search.
Again, using Travel in our example, you can see there are quite a few affiliate programs to choose from.
You can use Jaaxy for affiliate network searches such as Amazon, Commission Junction, Link Share, Click Bank, and Digital River.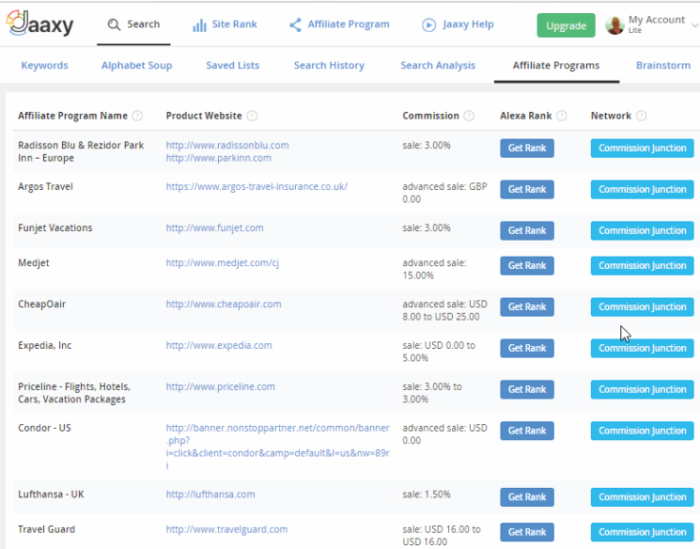 SITE RANK
Do you want to see how well your posts are doing in Google, Bing, and Yahoo? Type in your keyword and Jaaxy can tell you which position your post is in and it will also track your performance over time. You can quickly determine which website activities are leading to search rankings.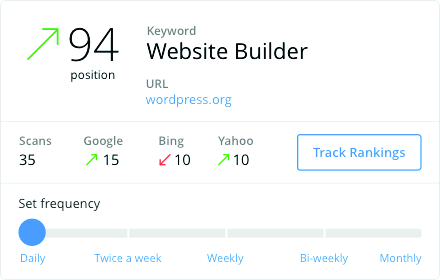 Other Features Of This Amazing Tool
Affordable – Starter is FREE

Fast

Mobile-friendly

Depending on your plan, a minimum of 30 keyword searches

No software to download

Find what's trending in your niche

Accurate information

Training and support

3 pricing plans available – whether you are new or a seasoned online marketer or own another online business
Features Not Available
English is the only available language

No local searches – searches are based in the entire world; no certain locations targeted
|The Jaaxy research tool might be considered cost-prohibitive if you are on a tight budget at $49 or $99 monthly, but as a beginner, I encourage you to begin with Starter. You can always upgrade later.
MY OPINION
Jaaxy is designed for anyone building an online business using content to generate traffic to their website. This includes affiliate marketers, freelancers, bloggers, etc.
I love using Jaaxy and so do many others. With over 500 million new search terms being searched every day, Jaaxy will provide you with the tool you need. The way I look at it, Jaaxy For The Beginner and Why You Need It, is one more tool to help you realize your big dreams of online marketing into a money-making reality.
Have fun. Try it. See what you think!