Here we are going to learn how to access your WordPress dashboard, what plugins are, cleaning up your website, activating the All in One Seo Pack and Ewww Optimizer and getting your site ready for search engine optimization effectively driving traffic to your website.
By now you should have a website built in WordPress with your domain name, your niche picked out and a theme you like. With your free membership in Wealthy Affiliate, you have a choice of 12, a nice number to work with. As a Premium, you will have over 3700!
I remember when I created my first website; I knew what my niche was, and just wanted to get going. I was so excited but also totally overwhelmed! Because I understand what this feels like, we will take it slowly.
 Accessing Your WordPress Dashboard
The first thing you are going to do is head to your dashboard (the backend of your website) by logging into your WordPress admin. In Wealthy Affiliate, this is quite easy. You click on Site Manager, scroll to your website and click on "Log in." Your password is already encrypted and secured with SiteRubix technology so you don't have to remember 'one more' password! If you are anything like me, you already have more passwords than you care to remember.
The dashboard is the first screen you see when you log into WordPress and basically is the workspace for your website. The dashboard is composed of several components. Here is a brief breakdown:
Posts – content

Media – you can add images to use on your website

Pages – where you might add such content as your Privacy Policy

Comments – on your website

Appearance – customize your theme, change it, or even add code

Plugins – add-on extensions for your website

Users – you and maybe others that you want to give access to your site

Tools – import or export website code

Settings – general settings of your website

Collapse menu – if you need more workspace
Rolling Along
Now that you are into the dashboard of your website, it is time to add some crucial plugins.  The WordPress platform is used by 34.8% of ALL websites, which numbers in the millions, and comes with its own range of plugins. You don't want a lot to begin with but you certainly will want these two.
What is a plugin? A plugin (or add on) is software that contains a group of functions.  They can extend the functions already in place or they can add new features to your existing website.
To begin, scroll down the left side of your dashboard to "Plugins" and click on it. In the list of install plugin, you will see All in One SEO Pack and EWWW Image Optimizer (image compression) with a description of each. You are going to click 'Activate' on each one. We will talk more about SEO a little further down, but for now, activate them.
Note: At the top of your items in the dashboard you will see 'Updates' with possibly a number beside them. This is telling you there are updates available such as a new version of WordPress, themes, and plugins. Go ahead and update them. The site is still fully operational and you don't have to do this but it is a good idea to get in the habit of updating them as they come in.
"Cleaning" Up Your New Website
Why should you have to clean up a new website? Well, there are some items that come as a default of your new WordPress theme such as Posts and Pages. We are going to delete those.
Again, on your left-hand side of your
dashboard,
you will see 'Posts.' You will learn more about posts later but for now, click on the default post "Hello World" and click on trash to delete it. Great!
Now, scroll again to the word 'Pages' and click on it to remove any links. (If for some reason you do not find these default posts and pages, just ignore and keep going – your particular WordPress theme may not have them.)
What's All the Fuss About SEO
Getting your site ready for SEO (search engine optimization) for searches and ranking.
Why do you want to do this? You want to get noticed and when I say noticed, I mean by the big search engines – Google, Bing, and Yahoo. When your website is noticed, that means you get ranked; you are targeting traffic which means revenue. Getting ranked is the first step in earning online revenue and using SEO effectively will drive traffic to your website.
"Ranking – having a specified rank in a hierarchy (Google, Bing, or Yahoo)."
Remember when you activated the All in One Seo Pack on your website earlier? This plugin will enable your sites to get indexed and ranked properly by these search engines. This next step is very important for your website content, and should not be ignored.
Let's Get Started 
In your WordPress dashboard, on the left-hand side, if you installed the plugin as directed earlier, you should now see 'All in One Seo.' It is located near the top. When you hover over it or click on it, you will see a drop-down menu; in that menu, click on 'General.'
 Note: It is not necessary to upgrade to PRO. The free version offered here is sufficient for your needs.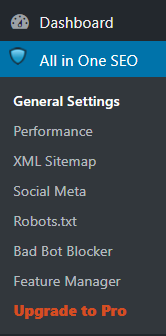 This is your home page settings sections and there is a lot of stuff on here but we are only going to address a couple that you need to know about for now.
Home Title – simply, this is the title of your website and a brief tag line to make it interesting. For example, Title – Is CBD For Me
Additional comment (tagline) – pain relief without the high
So the home title is title + tagline:  Is CBD For Me – pain relief without the high
(ideally, this should be between 40 – 60 characters with 60 being the maximum)
Home Description – Here you will want to add a brief description (160 characters maximum) about your website – what it is about and how it will benefit people.
 When finished, scroll to the bottom of the page and click on 'Updates' to save your settings.
Awesome! You are now ready to start adding content to your website! You have added the SEO and the Ewww Image Optimizer plugins to your website and cleaned up the posts and pages sections.
Hopefully, this will get you started and excited about building up your website by adding valuable and engaging content as the next step in generating revenue.
If you are a new visitor and haven't created your free website, head

 HERE 

to get started!