One question repeatedly asked by new online affiliate marketers is "Do I need an email marketing list?" And the short answer is yes! Even if you only have a handful of people, get going.
When I first started my email list, I reached out to friends and family and asked their permission. I also told them that if they didn't want to stay on the list, they had the option to leave but I would appreciate it if they at least supported me. You know what? I have had only a few who have opted out.
Just having an email list though isn't enough. You need an email service provider so you can send out your posts, create a signup form, get out important information about your website, etc.
FREE VS PAID
This is another question that comes up, especially those with a small or non-existent budget. Do I have to have a paid version or will a free one do just as well? I am not here to tell you that you should have a paid version. Not everyone starting out will have the budget for this and maybe free is the only option available to them.
FREE VERSIONS
A couple of these free email service providers are Mailchimp and Mailer-Lite.
MAILCHIMP
Mailchimp is very popular. The free version allows you up to 12,000 emails to 2000 subscribers. Their paid plan starts at $10/month which makes it affordable.
Services offered:
Unique campaigns

Connect with existing web services such as WordPress and Shopify

Automation making your life easier

Simple segmentation and management of your lists

Simple tracking and analytics
Some downsides:
If your lists grow fast, then you have to start paying monthly

I have heard from users that Mailchimp does not like affiliate marketing so you have to be very careful your account doesn't get banned

No advanced functions for the free version
I personally used Mailchimp and didn't care for it. I did not find it all that user friendly, but that might have been just me! A lot of users are happy with Mailchimp.
MAILERLITE
Another popular free email marketing provider is

MailerLite

. It is easy to use and emails are unlimited up to 1000 subscribers. After that, their paid plan starts at $10/month up to $35/month.
Services offered:
Drag and drop email builder

Automation

Landing pages

Popups

Integration with other web services such as Shopify and Woo Commerce

Email newsletters designs
Some downsides:
Shows the Mailerlite logo on outgoing emails (on the free plan)

Not enough templates

Skinny on tutorials and training videos

Geared more toward the beginner
PAID VERSIONS
There are several very good paid versions of email marketing services:
ConvertKit

Constant Contact

AWeber

Bronto

Get Response

MailGet Bolt
In this article, I am going to talk about AWeber because it is the service provider that I use.
AWEBER
AWeber, headquartered out of Pennsylvania, was founded in 1998 by CEO Tom Kulzer who began his career in software engineering but soon discovered there was a need for customers wanting to achieve success through email marketing.
Their six core values are:
Create awesome experiences

Have passion

Respect and cooperation

Provide and ask for Feedback

Education

Have fun!
This is all well and good, but do they deliver?
So far, in my experience, I have not been disappointed. Anytime I have had to contact them, they have replied within minutes, are very polite and patient, and more than willing to help. I would say they take their core values very seriously.

Services offered:
30-DAY FREE TRIAL – This is great especially if you are on a budget and want a trial run

EMAIL NEWSLETTERS – HTML Email templates for professional-looking newsletters

DROP AND DRAG EDITOR – Over 700 responsive email templates

AUTOMATION – Email sequences with the drop and drag editor

SPLIT TESTING – Testing such things as subject lines, send times, email content, etc.

AUTORESPONDER FOLLOWUP – Automatically sent emails triggered by recipient's behavior such as subscriptions to newsletters

WEBSITE SIGN UP FORMS – Create simple and complex sign up forms for your website

SEGMENTATION – Manage and segment subscribers

TAGGING – Triggers automated email campaigns based on clicks and opens

TRAINING VIDEOS – Lots of videos to walk you through learning curves and features

SUPPORT – Top-notch either by email, chat or phone – very quick response time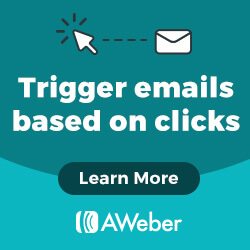 LATEST RELEASES
AWeber has worked very hard in 2018 to provide better services. Some of these are:
Creating subscriber segments based on "No Opens," "Any Opens," and "Any Clicks" since a certain date or period of time


Partnering with Zapier, Apiant and Automate to connect email marketing with 100+ apps making integrating easier

Search before dates to segment active and inactive subscribers

Ability to see subscribers' tags easily on STATS mobile app

Introduction of AWeber Academy – 24/7 Email Marketing Master Class

18 new language options for the confirmation email

Updates to the confirmation Call to Action buttons such as "Confirm my Subscription," Confirm my Request," or "Confirm my Email."

One-click automation and segmentation without costly and bulky interfaces


a new design of confirmation emails

Updates to the drag and drop editor

Changes to the Personalization menu such as custom snippets in list settings

Addition of a survey template where you can utilize up to 4 different survey types directly with emails which can be viewed through QuickStats

Using your mobile device, you can create, edit, schedule and send messages with Curate

Greeting subscribers in 13+ languages for marketers who prefer using confirmed opt-in.
As you can see, AWeber takes email marketing very seriously and are continually evolving and educating, providing you with as many options as possible for successful marketing.
Some downsides:
Slightly more expensive than some other service providers


No landing page editor


Some forms are outdated


Subscribers and unsubscribers count towards the limit
PRICING AND INCLUSIONS
30-day trial with access to all features

No setup fees

Payment methods – Visa, Mastercard, American Express, Discover, Cheques, Money Orders

$19/month for 500 subscribers and unlimited emails all the way up to $149/month for up to 25,000 subscribers.

Quarterly and annual billing options thus providing savings

Access to email experts 7 days/week

Deliverability

Automation

FINAL THOUGHTS
While there are many other service providers out there, I am going to stick with AWeber for the time being. Taking into consideration the readily available support, I strongly believe it will give me the service and quality I expect from an email service provider.
 ACTIONABLE TIP:
Here is a short tutorial on how to turn an Email Address into a Clickable Link! (If a popup appears simply click out of it and continue with the video.)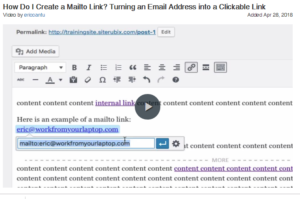 Do you use AWeber for your email marketing or another autoresponder? Please share your comments below.